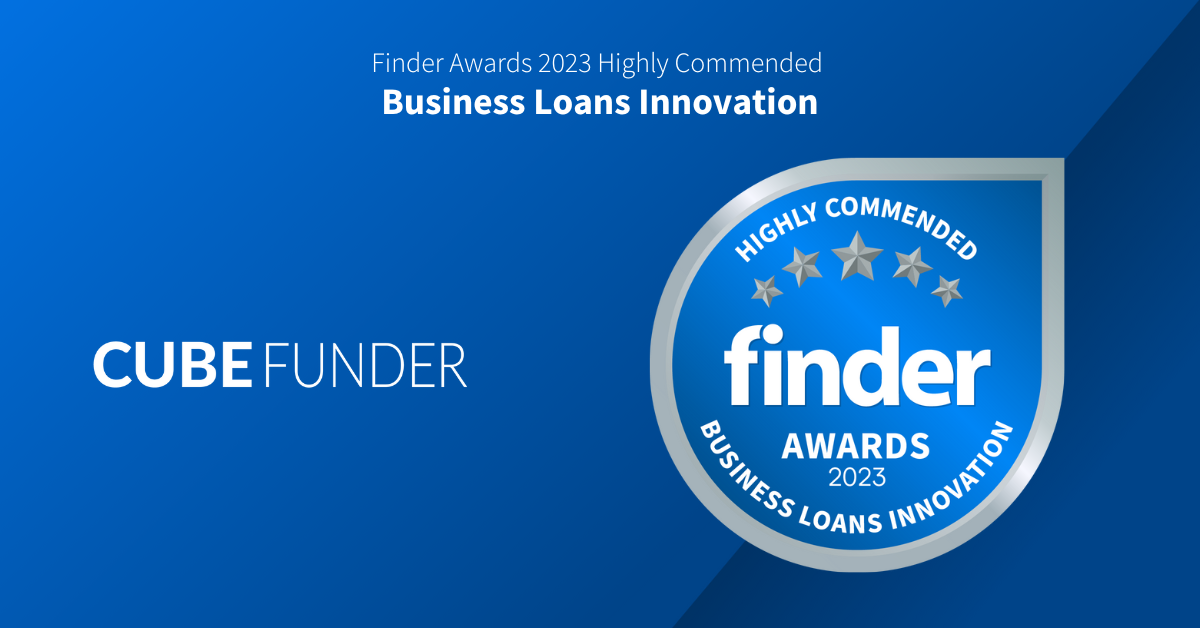 Cubefunder scoops Highly Commended in Finder Awards
For the second year in a row, Cubefunder has attracted high praise from expert judges in the Finder Lending Innovation Awards. Kate Anderson, the deputy editor at Finder, explains the significance of Cubefunder's achievement.
Cubefunder has launched innovative products and services for its customers in the past year, and that's why it was highly commended in the Business Loans Innovation category in the latest Finder Lending Innovation Awards 2023.
The judging panel of industry experts was impressed with Cubefunder's approach to solving cashflow issues for businesses. The judges highlighted how Cubefunder's repayment model can adapt to how and when businesses receive payments from customers. For example, in months when the revenue is good, they can pay off more, and pay less in months when it's dipped.
The judges also praised Cubefunder for the value it brings to customers through its fixed fee and by not charging for early repayments. These features were commended alongside the fact that Cubefunder loans can be used for any business purpose, including wages, stock, expansion, or as a cashflow buffer.
Overall, the panel praised Cubefunder for providing services to small businesses which solve the key issues they face around financing.
Am I eligible for a Cubefunder business loan?
You should only apply for a Cubefunder business loan if:
You have a Limited company registered at Companies House in England or Wales
3 + Months Trading
Minimum of £4,000 monthly revenue
Cubefunder works hard to turn visions into reality and plans into action by supporting their customers financially on their ventures.
Finally, it is an honour to have won this award and to be recognised for our efforts and inclusive approach to lending to small businesses as well as our flexible repayment plan.
About Finder
Founded in Sydney in 2006, Finder launched in the UK in February 2017 and is now used by around 10 million people across the globe each month. Our goal is to help people make better financial decisions, and we publish reviews, guides, comparisons and videos.
The Finder Lending Innovation Awards, launched in 2021, recognise providers that are innovative in their chosen field, by bringing new and impactful features to the market and delivering beneficial services to their customers. Finder's subject specialists draw up a shortlist of providers and an expert panel of judges assess the finalists and select the winners.
For more information on Finder's awards programme and the full methodology, visit https://www.finder.com/uk/finder-lending-innovation-awards-2023.