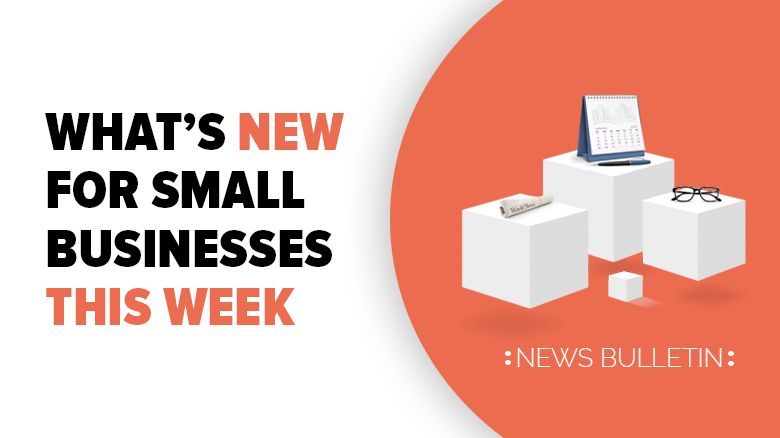 This week the government has announced several new measures to help small businesses during the Covid-19 pandemic and the Brexit transition period. Also, AMEX and Amazon have teamed up to launch new credit cards to aid SMEs. Here is an at a glance look at the news you need to know:
Chancellor pledges more support for businesses in Wales
Small Business Saturday launches first online roadshow
AMEX and Amazon launch new credit cards to help SMEs
Acas urges employers to look at redundancy alternatives
Government takes action on late payments
Small businesses encouraged to join Trader Support Scheme
Public procurement must demonstrate social value
Chancellor pledges more support for businesses in Wales
Additional government support for small businesses in Wales has been outlined by the Chancellor, Rishi Sunak. The Chancellor has announced a package of measures that will continue to protect jobs and help businesses through the uncertain months ahead.
The package includes a new Job Support Scheme to protect millions of returning workers, extending the Self Employment Income Support Scheme and the 15% VAT cut for the hospitality and tourism sectors, and help for businesses in repaying government-backed loans. The announcement follows the implementation of additional measures to combat the spread of Covid-19 across the UK.
Small businesses are set for a much-needed boost with the introduction of a new support and mentoring package. Small Business Saturday, now in its eighth year, will launch the UK's first online roadshow for more than 30 towns and cities affected by Covid-19.
Kicking off in Scotland on November 2, the tour will be held in city centres such as Edinburgh, Manchester, London and Cardiff as well as rural locations like Pateley Bridge in the Yorkshire Dales and Bodmin in Cornwall. The roadshow – which will be supported by BT Skills for Tomorrow – will include free virtual mentoring advice on a range of topics from digital marketing to time and money management.
Live interviews and workshops with local businesses, experts, dignitaries and supporters of the campaign will also be streamed via Small Business Saturday UK's Facebook page along with a daily 'Happy Hour' giveaway broadcast. Small businesses can book virtual one-to-one mentoring sessions with local experts on the Small Business Saturday website [insert hyperlink: https://smallbusinesssaturdayuk.com].
AMEX and Amazon launch new credit cards to help SMEs
American Express has announced the launch of two new credit cards in conjunction with Amazon to help small businesses. The new Amazon Business American Express Card and the Amazon Business Prime American Express Card provide a range of rewards and payment flexibility designed to help SMEs better manage their cash flow and get greater insight into their spending.
The Cards give card members the option to earn reward points or select a deferred payment term for each transaction, enabling them to make the best payment choice for their finances.  Reward points can be earned anywhere American Express Cards are accepted and redeemed toward future Amazon purchases or applied to the balance of their monthly card statement.
Both Cards come with a £50 annual fee, however, this is waived for new Business Prime American Express card members in the first year.  New card members who are Business Prime members will also get a £50 Amazon gift card, and all other card members will receive a £25 Amazon gift card.
Acas urges employers to look at redundancy alternatives
Acas has called on employers to consider all alternatives to redundancy as the government's furlough scheme comes to an end this month. If they have to lay off staff, the employment advisory service has warned they need to follow the process to the letter of the law.
This comes after a YouGov survey of more than 2,000 business leaders commissioned by Acas found that one in three firms were likely to make redundancies over the next three months. It also revealed that many admit they are unaware of the rules around the consultation process.
Thirty-seven per cent of employers said they are likely to make redundancies before Christmas. Twenty-seven per cent plan to inform affected employees remotely, via a video or phone call; 33% will do so in a face-to-face meeting; and 33% will have those conversations using a mixture of both face-to-face and virtual meetings.
However, despite the wave of redundancies planned, 24% of business leaders admit they are unaware of the rules around consulting staff before making redundancies. This increases to 33% in firms with fewer than 50 employees.
Government takes action on late payments
New plans aimed at ensuring small businesses are paid on time have been announced by the government. Small business minister Paul Scully said that £23.4 billion worth of late invoices are owed to small firms across Britain, impacting on their cash flow and even survival.
A consultation has been launched on giving new powers to the Small Business Commissioner, including ordering firms to pay, and investigating bad practice.
Small businesses encouraged to join Trader Support Scheme
Small businesses have been urged by the government to sign up to its new Trader Support Service with fewer than 100 days until end of the Brexit transition period. The new service provides education and guidance for traders moving goods under the Northern Ireland Protocol, including between Great Britain and Northern Ireland.
Tens of thousands of traders have started to receive emails and letters from this week with details on the launch of the service and its benefits for UK businesses. The free-to-use digital service will help businesses and traders to navigate the changes to the way goods move once the Northern Ireland Protocol comes into effect on January 1, 2021.
Traders who sign up to the service can also use it to complete digital declarations.
The service will:
Provide a free end-to-end support package to manage import and safety and security declarations on behalf of traders
Educate businesses on what the protocol means for them, and the steps they need to take to comply with it. This will include online training sessions and webinars, with information being continually updated
Be available to businesses moving goods into Northern Ireland under new processes in the Northern Ireland Protocol that start from January 1, 2021
Public procurement must demonstrate social value
Small businesses seeking to win public sector work will now have to set out how they will deliver social value priorities, under new measures were launched by the government this week. The social value in procurement model is aimed at promoting new jobs and skills, encouraging economic growth and prosperity and tackling climate change.
The new approach will provide more opportunities for SMEs and social enterprises to win government contracts by demonstrating the value they would generate. Value for money will still be paramount, but a bidder's social value score will also be factored into the assessment of contracts.
Government departments will use the social value model to assess and score suppliers on the wider positive benefits they bring by delivering the contract. This provides greater value for money for the taxpayer while also building a more resilient and diverse supplier base.
The social value model which departments will assess contracts on includes:
Supporting Covid-19 recovery, including helping local communities manage and recover from the impact of the pandemic
Tackling economic inequality, including creating new businesses, jobs and skills, as well as increasing supply chain resilience
Fighting climate change and reducing waste
Driving equal opportunity, including reducing the disability employment gap and tackling workforce inequality
Improving health and wellbeing and community integration
The new measures come into effect on January 1, 2021.